Standard Crates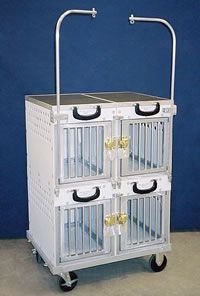 Nexus 1 Quad with Grooming Arms
Pro Dog Crates are manufactured to any size to fit your breed. Below are three popular sizes we call our standard sized crates. Our customers often customize these sizes by adding an inch or two to the varying dimensions to fit their breed (read more about our Custom Crates). Bar style doors are standard, plastic front doors are available upon request. Prices below are for single, individual crates.
Nexus I - 12" wide X 18" long X 15" high -
$170.74
Nexus II - 16" wide X 22" long X 19" high -
$248.12
Nexus III - 17" wide X 26" long X 22" high -
$326.72
All standard crates can be made into stacking units.